Rogers Sports & Media Makes an Impression on Advertisers, Showcasing Powerful Portfolio at 2023 Upfront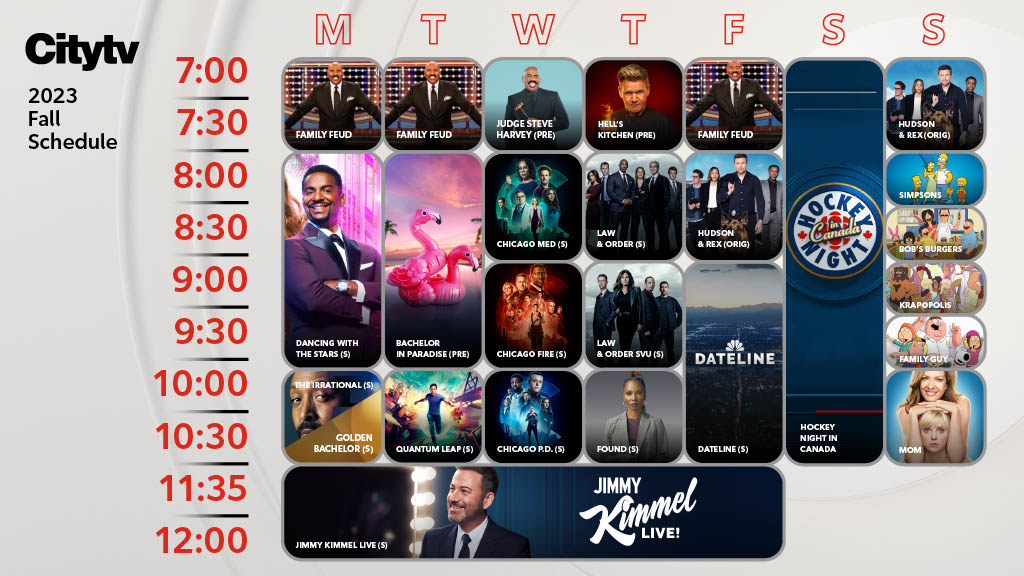 Citytv Announces Repeat-free Premium Content Lineup, Including New Original Production of Law & Order Toronto: Criminal Intent
Advanced Advertising Solutions and Robust Data Capabilities Drive Impact for Partners
Rogers Sports & Media (RSM) showcased the power of its national media megaphone at its annual Upfront today, unveiling one of the industry's strongest primetime sports and entertainment lineups for 2023/24, and offering advertisers unrivaled reach and influence with omnichannel solutions across linear TV, digital platforms, and streaming services.
Executives Colette Watson (President), Hayden Mindell (Senior Vice President, Television), Al Dark (Chief Revenue Officer), and Greg Sansone (Senior Vice President, Sportsnet), along with an A-list of Canada's most recognizable media personalities, shared RSM's extraordinary content and advertising solutions, plus several fascinating insights.
"Over the past year, Citytv has increased audience share more than any other conventional network in Canada and adding this new premium content to our programming mix will ensure continued success and stability for both the network and our partners," said Dark. "Combined with massive audience growth on Citytv+ and SN NOW which feature targeted Dynamic Ad Insertion, our world-class data capabilities, and unique brand integrations, Rogers Sports & Media offers a seamless 'Total TV' solution for advertisers to drive impact and make an impression across all platforms."
Offering a variety of content from heart-stopping live sports to must-see dramas and can't-miss reality series, plus premium audio content, Canada's largest reach of ad supported video (AVOD), advanced and self-serve advertising solutions, and strong data capabilities, RSM thoroughly demonstrated its unmatched ability to connect marketers with highly engaged consumers across all devices, driving real business outcomes.
Throughout the presentation, RSM shared key data and insights related to its offerings:
Citytv drove the largest year-over-year increase in audiences of any conventional network in Canada*
Breakfast Television is the #1 morning show in Toronto
Citytv streaming audiences across all digital platforms have increased 30%
Sportsnet is #1 in primetime with audiences up 23% YoY (A25-54), and is also #1 in primetime for women (F25-54)
SN NOW is Canada's #1 sports streaming service and has already delivered more than 500 million DAI impressions in 2023
RSM is home to the largest ad-supported podcast and audio streaming network in the country, with an extensive reach of 8 million listeners
Sportsnet's podcast network averages more than 5 million monthly downloads
RSM radio brands have their highest audience share in 3 years
RSM campaigns deliver impressive results for advertisers:

Brand Awareness Lift – 12%
Purchase Consideration Lift – 24%
Brand Favourability – 22%
RSM also announced several new and enhanced advertising solutions:
In a ground-breaking new partnership, RSM will be the representative of Disney+ inventory in Canada when it launches in the market
Digital Ad Insertion has launched in live programming on its streaming platforms Citytv+ and SN NOW – a Canadian first
RSM's Out-of-Home network has grown to more than 10,000 screens across Canada
Now that Rogers has come together with Shaw, RSM's R.E.D. solution provides invaluable consumer data, collected on a truly national scale
Later this year, RSM will release its Total TV solution – a suite of advanced measurement products powered by Canada's Arima and globally recognized CFlight from NBCU – to unite linear and streaming audiences and augment cross-platform planning and reporting
A newly launched self-serve platform, RSM Ad Manager, is now available to support local marketers and Small-Medium Businesses
Offering an entertaining schedule built for TV fans, RSM unveiled an exceptional primetime lineup across its conventional and specialty networks:
Citytv announced the all-new, one-hour crime drama Law & Order Toronto: Criminal Intent, an adaptation of the legendary Law & Order brand, slated to air on Citytv in Spring 2024
Dancing with the Stars returns to Citytv followed by all-new crime drama The Irrational and the latest Bachelor franchise spinoff The Golden Bachelor to anchor Mondays, plus new drama Found on Thursdays
Animation Domination Sundays return to Citytv with staple comedies The Simpsons, Bob's Burgers, Family Guy, and new series Krapopolis

As the home of the Blue Jays, the NHL and Stanley Cup Playoffs, and the Toronto Raptors, Sportsnet continues to produce the best live sports that matter most to Canadians
FX Canada remains the home to critically-acclaimed series, including American Horror Story: Delicate, the highly-anticipated return of Fargo, The Old Man, Welcome to Wrexham, plus the limited series Justified: City Primeval, and more
New and returning Canadian original series include Canada's Got Talent, Hudson & Rex and OMNI's Our Big Punjabi Family, Katiba Banat: Sisters in Arms and ABROAD
Exclusive to ad-supported streaming service Citytv+ on Amazon Prime Video Channels are reality dating series FBoy Island and new spinoff FGirl Island, hosted by Nikki Glaser, along with returning Poker Face
Contact RSM today for more information about advertising solutions and partnership opportunities.
Back to top