UFC® Returns to Sportsnet Starting in 2024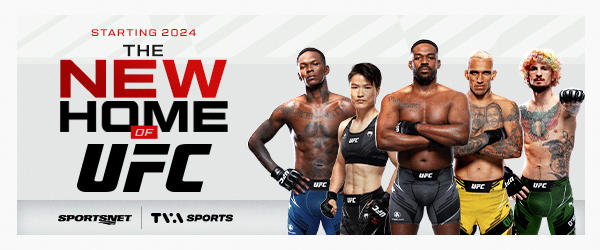 SPORTSNET AND TVA SPORTS TO BECOME UFC'S EXCLUSIVE
BROADCAST PARTNERS FOR UFC FIGHT NIGHT EVENTS
AND PAY-PER-VIEW PRELIMS  
LAS VEGAS AND TORONTO – November 8, 2023 – UFC®, the world's premier mixed martial arts organization and part of TKO Group Holdings (NYSE: TKO), today announced new long-term broadcast agreements with Sportsnet and TVA Sports for Canadian media rights to UFC's live events starting in 2024.
Sportsnet will be Canada's English-language home for UFC Fight Night cards and Pay-Per-View prelims across its channels and live streaming on Sportsnet+, while TVA Sports will serve French-Canadians nationwide. Both Sportsnet and TVA will also feature additional marquee UFC live programming, such as Dana White's Contender Series, to fans across multiple platforms.
UFC FIGHT PASS®, the world's leading streaming service for combat sports, will continue to offer its customers in Canada eight exclusive UFC Fight Night events per year and all early preliminary fights from each UFC live event. FIGHT PASS customers will also have access to the largest collection of combat sports programming in the world, featuring UFC's full archive of historic events, classic bouts, and original content, as well as live events from leading independent promotions from around the globe.  UFC Pay-Per-View main cards will remain available through current cable, satellite and digital providers.
Sportsnet and TVA Sports previously served as Canada's broadcast partners from 2011 through 2014.
"I'm so excited we're coming back to Sportsnet and TVA Sports," UFC CEO Dana White said. "When you think back to the GSP days, Sportsnet and TVA Sports helped build this business in Canada. We love Canadian fans and we're happy to be home."
"We're excited to welcome the UFC and its incredible fans back home to Sportsnet," said Greg Sansone, senior vice-president, Sportsnet. "This sport is absolutely electrifying, and we look forward to entertaining fans and growing UFC audiences with hundreds of hours of content and programming across all Sportsnet platforms."
"With pride, TVA Sports is once again becoming the French-language broadcaster of the UFC, a prominent sports brand around the world. The content being presented is of high quality and integrates perfectly into our offering. We will be delighted to welcome all UFC fans, both on television and our digital platform," emphasized Louis-Philippe Neveu, General Manager of TVA Sports."
"We can't wait to kick off the next phase of our Canadian broadcast offering," UFC Executive Vice President, Head of International and Content David Shaw said. "Sportsnet and TVA will offer fans incredible access to UFC events, programming and editorial coverage across their broadcast and digital platforms. 2024 is going to be a big year for Canadian MMA."
UFC will kick off its 2024 Pay-Per-Views schedule with UFC® 297: STRICKLAND vs. DU PLESSIS at Toronto's Scotiabank Arena on Saturday, January 20.
This marks the first UFC event in Toronto since UFC® 231: HOLLOWAY vs. ORTEGA on December 8, 2018. The city has hosted six blockbuster Pay-Per-View cards, featuring 10 world championship bouts.
Since debuting in the Great White North with UFC® 83: SERRA vs. ST-PIERRE 2 in 2008, UFC has held a total of 32 premiere sporting events in Canada that span across 11 cities.
###
About UFC®
UFC® is the world's premier mixed martial arts organization (MMA), with more than 700 million fans and 243 million social media followers. The organization produces more than 40 live events annually in some of the most prestigious arenas around the world while broadcasting to over 900 million TV households across more than 170 countries. UFC's athlete roster features the world's best MMA athletes representing more than 80 countries. The organization's digital offerings include UFC FIGHT PASS®, one of the world's leading streaming services for combat sports. UFC is part of TKO Group Holdings (NYSE: TKO) and is headquartered in Las Vegas, Nevada. For more information, visit UFC.com and follow UFC at Facebook.com/UFC and @UFC on X, Snapchat, Instagram, and TikTok: @UFC.
About Sportsnet
Sportsnet is Canada's #1 sports network. Sportsnet's multimedia offerings include Sportsnet (consisting of four regional channels: East, Ontario, West, and Pacific), Sportsnet ONE, Sportsnet 360, Sportsnet World, Sportsnet+, the Sportsnet Radio Network, Sportsnet.ca, the Sportsnet app, and podcasts. Sportsnet is the official Canadian NHL national multiplatform rights holder, and is the regional broadcaster for the Vancouver Canucks, Calgary Flames, Edmonton Oilers, and Toronto Maple Leafs. Sportsnet also has extensive coverage of the Toronto Blue Jays and Toronto Raptors, as well as NBA, MLB, Grand Slam of Curling, National Bank Open presented by Rogers, FIBA, WWE, Super League Rugby, Premiership Rugby, FA Women's Super League, and FA Cup. Sportsnet is part of Rogers Sports & Media, which is a subsidiary of Rogers Communications Inc. (TSX, NYSE: RCI). Visit Sportsnet.ca.
About TVA Sports
TVA Sports has become the sporting reference for francophones in Canada with the exclusive French language presentation of the NHL and all the NHL playoff games including the Stanley Cup Final, the Toronto Blue Jays, Major League Baseball, EURO 2024 and 2028, WTA, Laver Cup, National Bank Open, RSEQ and USports football, Eye of the Tiger Management boxing events, Formula E races. The TVA Sports offering include TVA Sports TVA Sports 2, TVA Sports Direct, Tvasports.ca and the TVA Sports app.
Back to top