Grand Slam of Curling Heads to Pictou County for KIOTI National, Nov. 7-12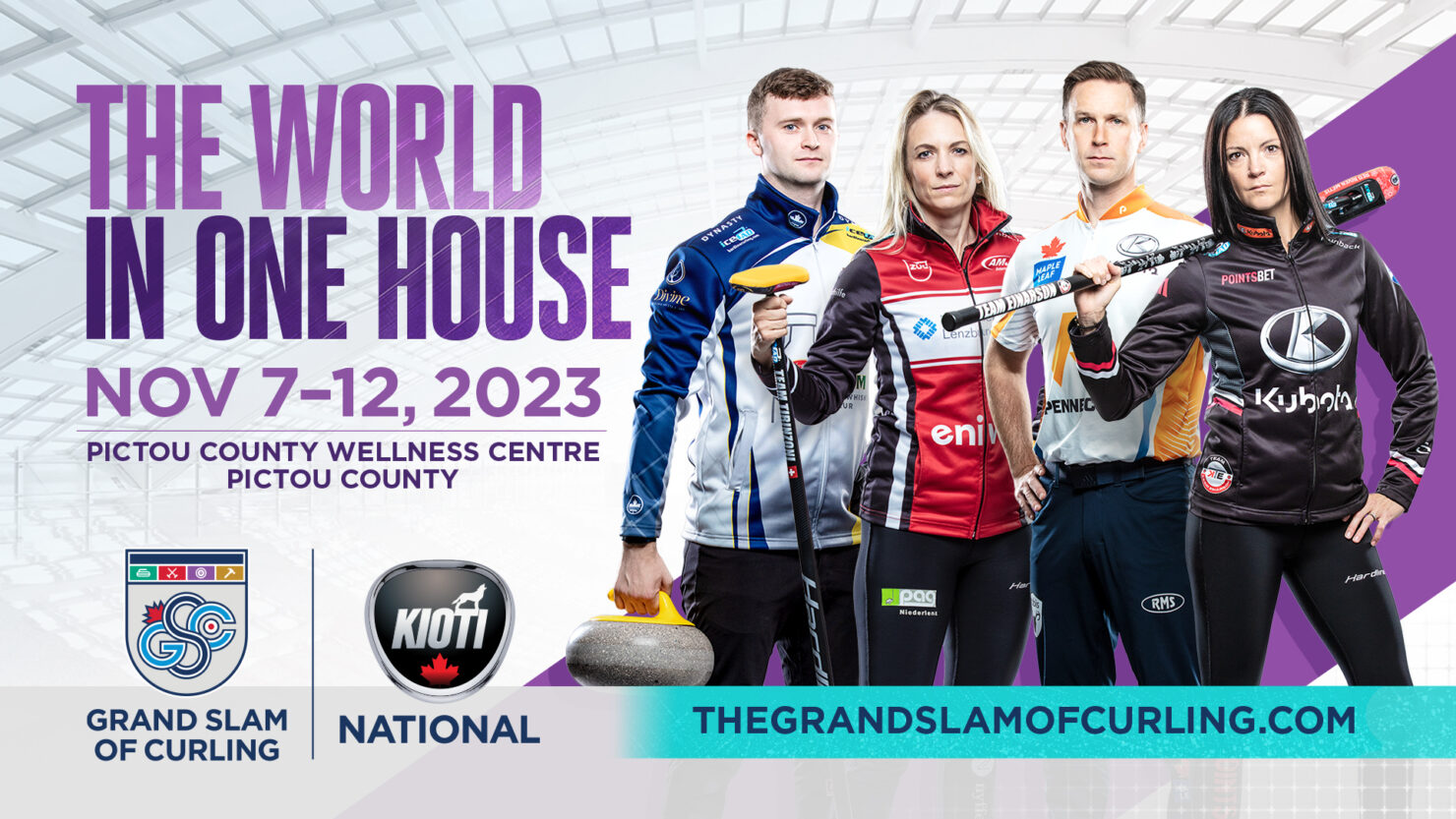 – Sportsnet to broadcast exclusive coverage of KIOTI National beginning Thursday, Nov. 9 on TV, and live streaming on Sportsnet+ –
November 1, 2023 – The Grand Slam of Curling is heading to Pictou County, Nova Scotia, welcoming the world's top curlers to the Pictou County Wellness Centre next week for the KIOTI National from November 7-12. Sportsnet is set to deliver exclusive TV and streaming coverage of the international premier curling event beginning Thursday, Nov. 9 on Sportsnet, Sportsnet ONE, Sportsnet 360, and via live stream on Sportsnet+.
The 2023 KIOTI National will feature 16 men's and 16 women's teams competing in a round-robin format for a combined $400,000 prize purse. Top-tier talent in action next week includes defending event champions Team Gushue (Canada) and Team Tirinzoni (Switzerland) who captured their respective titles last season in North Bay, Ontario, as well as Team Retornaz (Italy) and Team Jones (Canada) who took home the HearingLife Tour Challenge crowns last month in Niagara Falls. Canadian fan-favourites Team Homan (Canada) and Team Bottcher (Canada) are also competing.
Breaking down every minute of the action, Sportsnet's expert curling commentators are set to deliver exclusive insight and analysis live from the Pictou County Wellness Centre. Veteran play-by-play announcer Rob Faulds returns to the broadcast booth alongside celebrated Canadian Olympic medallists and curling analysts, Kevin Martin, Mike Harris, and Joan McCusker. Olympic gold medallist Jennifer Jones returns to the booth for select broadcasts throughout the event, and Robbie Doherty takes viewers to ice level with rink-side interviews.
Grand Slam of Curling competitors and Sportsnet's curling commentators are available to discuss the KIOTI National and 2023-24 Grand Slam season. For media accreditation and to secure interviews, please contact claudia.frutti@rci.rogers.com. The full draw schedule is available here.
Owned and operated by Sportsnet since 2012, the Grand Slam of Curling is an elite series of curling events that feature the best men's and women's teams from across Canada and around the world, with $2.1 million in total prize money up for grabs each season. Sportsnet and the Grand Slam of Curling are dedicated to growing the sport of curling across Canada and have been awarding equal purses to both men's and women's teams since 2015.
Remaining events in the 2023-24 Grand Slam of Curling season include:
World Financial Group Masters – Saskatoon, SK (Dec. 12-17, 2023, at Merlis Belsher Place)
Co-op Canadian Open – Red Deer, AB (Jan. 16-21, 2024, at Servus Arena)
Princess Auto Players' Championship – Toronto, ON (April 9-14, 2024, at Mattamy Athletic Centre)
Social Media Links
Official Website: Grand Slam of Curling | Sportsnet
Follow Grand Slam of Curling: Instagram | X | Facebook
Follow Sportsnet: Instagram | X | Facebook
About Sportsnet
Sportsnet is Canada's #1 sports network. Sportsnet's multimedia offerings include Sportsnet (consisting of four regional channels: East, Ontario, West, and Pacific), Sportsnet ONE, Sportsnet 360, Sportsnet World, Sportsnet+, the Sportsnet Radio Network, Sportsnet.ca, the Sportsnet app, and podcasts. Sportsnet is the official Canadian NHL national multiplatform rights holder, and is the regional broadcaster for the Vancouver Canucks, Calgary Flames, Edmonton Oilers, and Toronto Maple Leafs. Sportsnet also has extensive coverage of the Toronto Blue Jays and Toronto Raptors, as well as NBA, MLB, Grand Slam of Curling, National Bank Open presented by Rogers, FIBA, WWE, Super League Rugby, Premiership Rugby, FA Women's Super League, and FA Cup. Sportsnet is part of Rogers Sports & Media, which is a subsidiary of Rogers Communications Inc. (TSX, NYSE: RCI). Visit Sportsnet.ca.
Back to top