Bringing Fans into the Broadcast: Sportsnet to Evolve Viewer Experience with New, Future-Forward Studio, Starting Tonight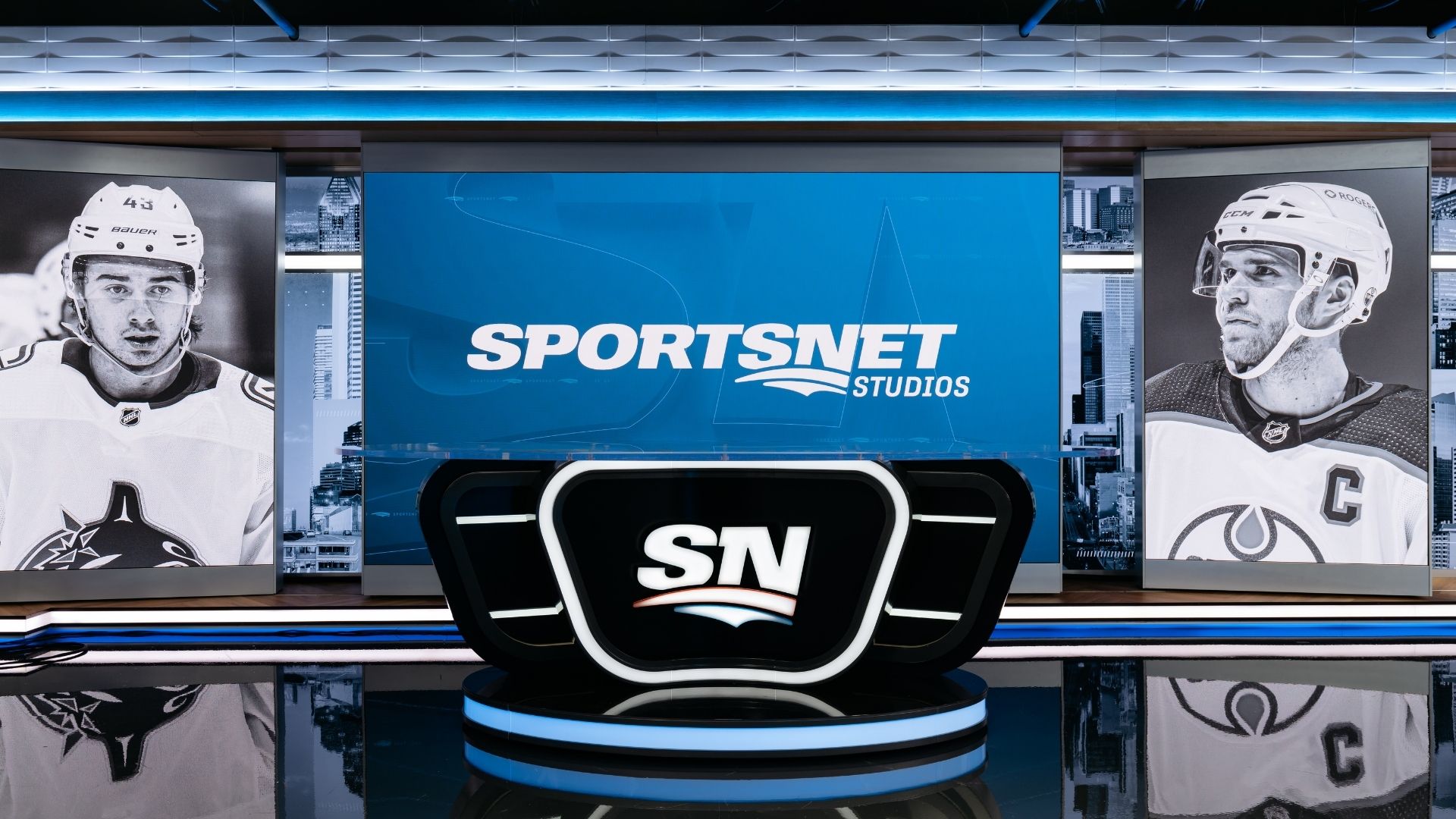 – Sportsnet Studios to become one of the first large-scale IP-based sports studios in North America –
October 13, 2021 – Hockey has never looked better. Tonight, as most of Canada's NHL squads hit the ice to start the 2021-22 season, Sportsnet is pulling back the curtain to officially debut the highly anticipated, innovative and interactive Sportsnet Studios. The enhanced NHL on Sportsnet experience premieres tonight on Scotiabank Wednesday Night Hockey and continues over the course of the season.
As announced earlier this year, Sportsnet Studios was built to provide the foundation for the network's reimagined approach to the traditional hockey broadcast, content production and distribution. As a new 'sandbox' for broadcasters and production teams to play in, the state-of-the-art technology, data capabilities and increased in-broadcast versatility allows the NHL on Sportsnet team to create interactive, immersive and innovative content.
These evolving broadcast capabilities offer endless options for enhanced fan engagement, all to be unveiled over the course of the season. New features include:
Virtual reality set extensions offer a larger-than-life opportunity to expand into the virtual world of the Sportsnet Stadium and transport hosts, analysts and reporters into new mediums
Introduction of augmented reality that lifts player statistics and graphics off the screen and into 3D for a unique presentation and more dynamic visual storytelling
Cutting-edge data capabilities to bolster in-broadcast statistics, graphics and content and deliver the information to the viewer in real-time
Versatile physical space introduces the ultimate blank canvas to empower Sportsnet's digital, social and broadcast teams in creating content that brings fans into the conversation
"The Sportsnet Studios are for Canada's sports fans, first and foremost. The investment made in these studios is representative of the way Sportsnet is adapting everything we do to better serve today's sports fan in the ways they want," said Bart Yabsley, President, Sportsnet. "As our NHL on Sportsnet broadcast team unites under one roof with access to the most current technology on the market, we are leveraging our exclusive access to the NHL's brightest stars to create content in ways not seen before in North America. We are pushing the envelope in sports broadcast technology for NHL fans and continue to set the bar in the Canadian media landscape evolution."
To achieve the network's vision of an innovative and immersive experience, Sportsnet collaborated with a number of world-class vendors to build one of the first large-scale, entirely IP-based sports studios in North America. Housed within two distinct spaces – Studio 31 (2500 sq. ft.) and Studio 32 (3900 sq. ft.) – the new Sportsnet Studios include:
22 set monitors delivering 1200 sq. ft. of visible surface area in-broadcast
Augmented reality and virtual set capabilities, driven by state-of-the-art technology from the gaming industry
The "Cove" centre piece – a 50 ft. curved, floor-to-ceiling LED wall
Adjustable main studio desks equipped with end-to-end LED graphics displays
250 energy-efficient LED broadcast lighting fixtures
13 studio cameras
Two cutting-edge IP-based production control rooms equipped with the latest multi-ME production switchers
50,000 ft. of video cables, 75,000 ft. of network cables and 55,000 ft. of audio cables.
In addition to providing unique storytelling for Canadian viewers, Sportsnet Studios' extensive displays open up countless opportunities for the network's partners and advertisers to activate in-broadcast and collaborate with Sportsnet's content creators.
For a behind-the-scenes "Making of the Studio", click here.
For a video tour of the space, click here.
Sportsnet Studios will be on full display throughout the NHL on Sportsnet season, including tentpole national broadcasts Hockey Night in Canada and Scotiabank Wednesday Night Hockey, and exclusive regional broadcasts featuring the Vancouver Canucks, Calgary Flames, Edmonton Oilers and select Toronto Maple Leafs games.
Complementing the move to Sportsnet Studios, the NHL on Sportsnet's new look and sound this hockey season will also include redesigned in-broadcast graphics and new theme music by Canadian alternative-rock band Ubiquitous Synergy Seeker.
About Sportsnet
Sportsnet is Canada's #1 sports network. Uniting Canadians through sport, Sportsnet's multimedia offerings include Sportsnet (consisting of 4 regional channels: East, Ontario, West, and Pacific), Sportsnet ONE, Sportsnet 360, Sportsnet World, the Sportsnet Radio Network, Sportsnet.ca, Sportsnet NOW, SN NOW+, the Sportsnet app, and podcasts. Sportsnet is the official Canadian NHL national multiplatform rights holder, and is the regional broadcaster for the Vancouver Canucks, Calgary Flames, Edmonton Oilers, and Toronto Maple Leafs. Sportsnet also has extensive coverage of the Toronto Blue Jays and Toronto Raptors, as well as NBA, MLB, Grand Slam of Curling, National Bank Open presented by Rogers, IndyCar, WWE, Super League Rugby, Premiership Rugby, Bundesliga, FA Women's Super League, and FA Cup. Sportsnet is part of Rogers Sports & Media, which is a subsidiary of Rogers Communications Inc. (TSX, NYSE: RCI). Visit Sportsnet.ca.
Back to top