Bridging Advertisers with New Canadians

A Surge in New Canadians Brings Tremendous Opportunities for Brands

The face of Canada is changing, this is a fact supported not just by data, but by who we see represented onscreen across all media platforms every day. 
And visual representation is just the beginning. The rate of immigration is increasing dramatically, and these newcomers arrive with diverse languages, cultural backgrounds, preferences, and values that may be very different from the Canadian market. This presents unique challenges and new opportunities for brands and agencies.
That's why we at Rogers Sports & Media dug into the data on new Canadians and their preferences. Our findings below offer a strong understanding to help brands and agencies better understand – and reach – these communities more effectively.
Population growth is being driven by newcomers  
According to the 2021 Census, there more than 8.3 million immigrants in Canada, around one-quarter of the entire Canadian population.
And that number will rise dramatically as the federal government is committed to bringing in nearly 1.5 million more permanent residents by 2025. These newcomers bring a wealth of talent, innovation, and financial investment to the country.  
It would be reductive to simply group all new Canadians together, but we can identify the largest groups. According to statistics Canada, the fastest growing communities in Canada will be South Asian, Filipino and Arab, with each population expected to double over the next 20 years. However, one number stood out very clearly: 80. That's the percentage of recent immigrants who are under 45 years old. 
Top 5 ethnic groups in Canada in 2021:  
South Asian – 2.61M

 

Chinese – 1.95M

Black – 1.57M

 

Filipino – 1.02M

 

Arab – 0.72M

 
Top 5 ethnic groups in Canada in 2041:  
South Asian – 5.66M

 

Black – 3.13M

 

Chinese – 3.08M

 

Filipino – 2.06M

 

Arab – 1.65M

 
Each of these groups have different cultures, languages, and experiences, what remains consistently important is which may require specific marketing strategies, building brand loyalty within these communities offers strong long-term returns. 
Representation is important to newcomers 
While nearly a third of newcomers agree advertising influences thier purchasing decisions (33%), about one quarter don't see themselves represented enough in ads. That desire for representation includes the languages used in advertising, with 1 in 4 Canadians speaking a language other than English or French as their mother tongue, and 12.5% of Canadians overall speaking neither of the two official languages at home: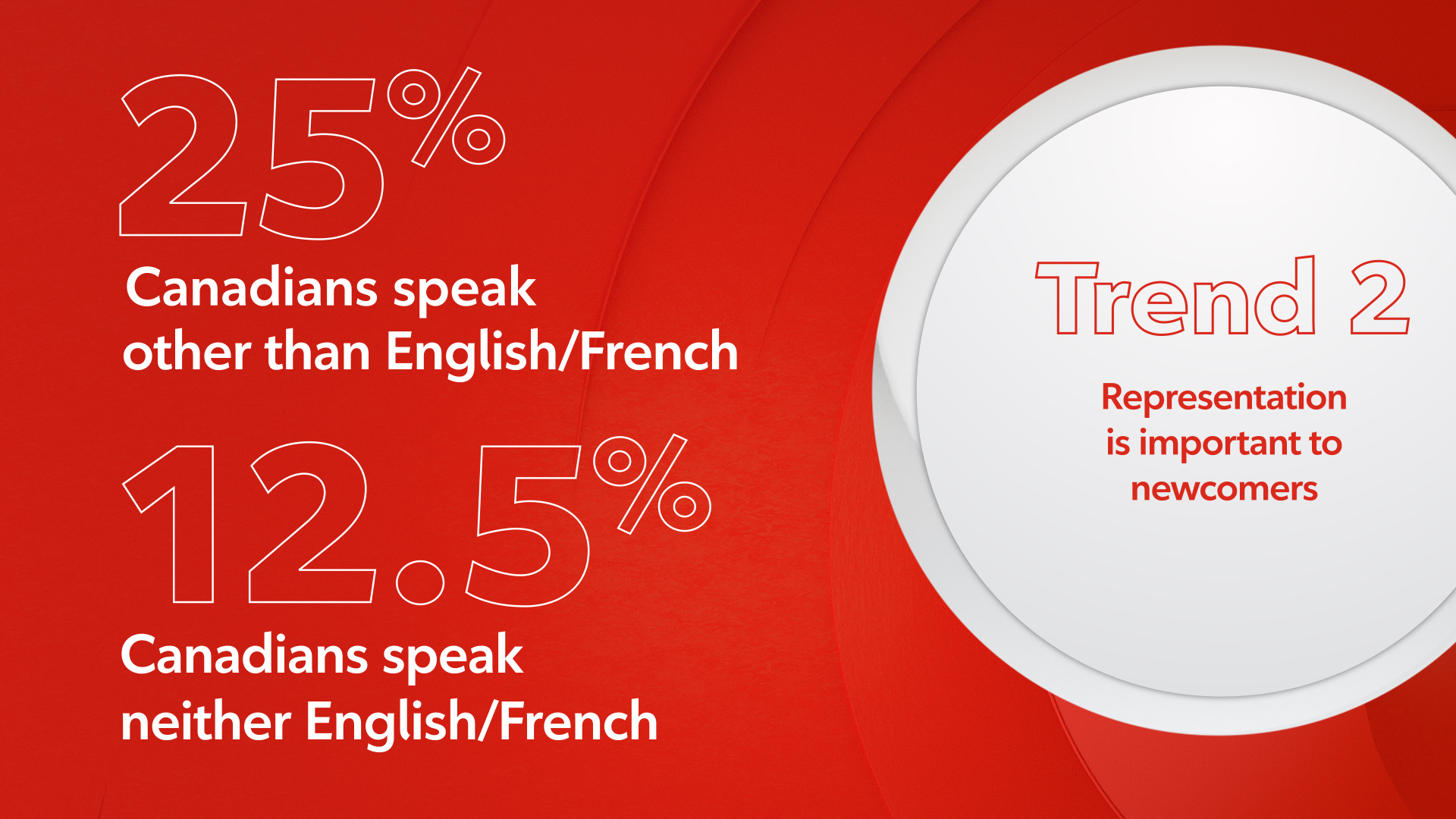 Additionally, more than half of newcomers consume their media in languages other than English or French, with Hindi, Cantonese, Punjabi, and Mandarin cited as the most commonly consumed media languages. 
Top Languages (Non-English/French) consumed:
Hindi – 22%
Cantonese – 9%
Punjabi – 8%
Mandarin – 7% 
Building brand loyalty and connecting with new Canadians requires brands to not only ensure visual representation in campaigns, but linguistic representation as well.  
Sports plays a valuable role in newcomers' lives 
One in five sports coaches in Canada are immigrants so it's no surprise sports are important to new Canadians. Nearly 2/3 watch live professional sports, 50% follow at least one professional sport, and newcomers are 36% more likely to purchase products from companies sponsoring sports and sporting events than the general population.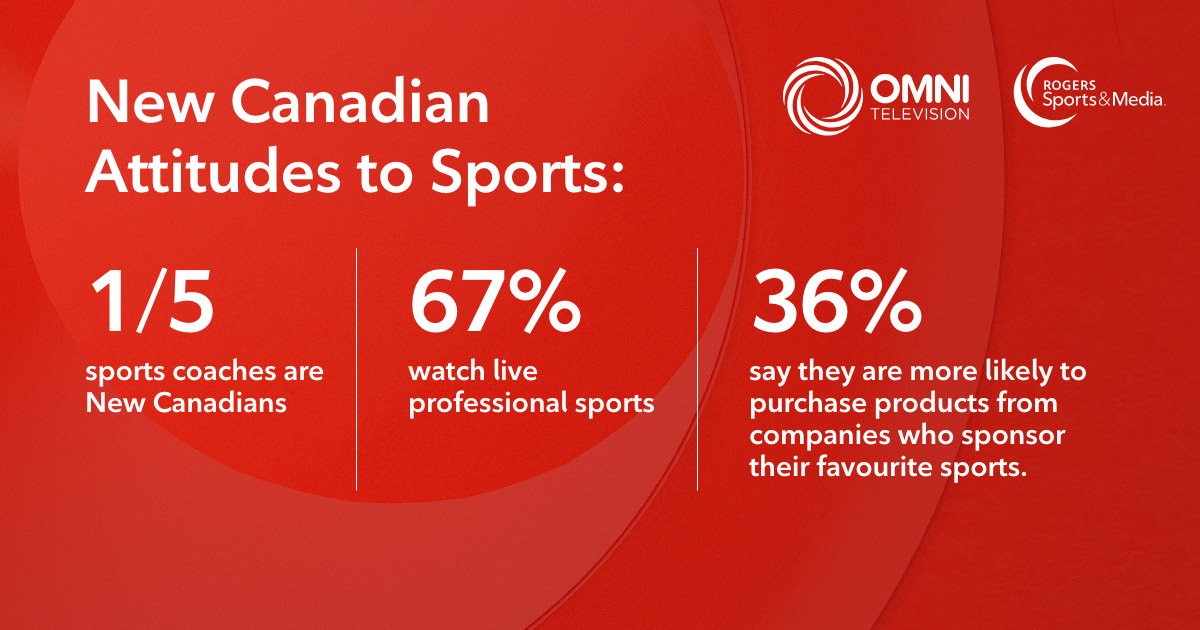 Companies and brands that engage in sports activation for their campaigns will connect to newcomers more quickly and effectively.   
Community plays a vital role in helping newcomers adjust to their new life 
Communities are very important to newcomers to help them acclimate to their new surroundings. 64% of newcomers agree that participating in cultural events and activities gives them a sense of belonging, with more than 2/3 citing the importance of local news.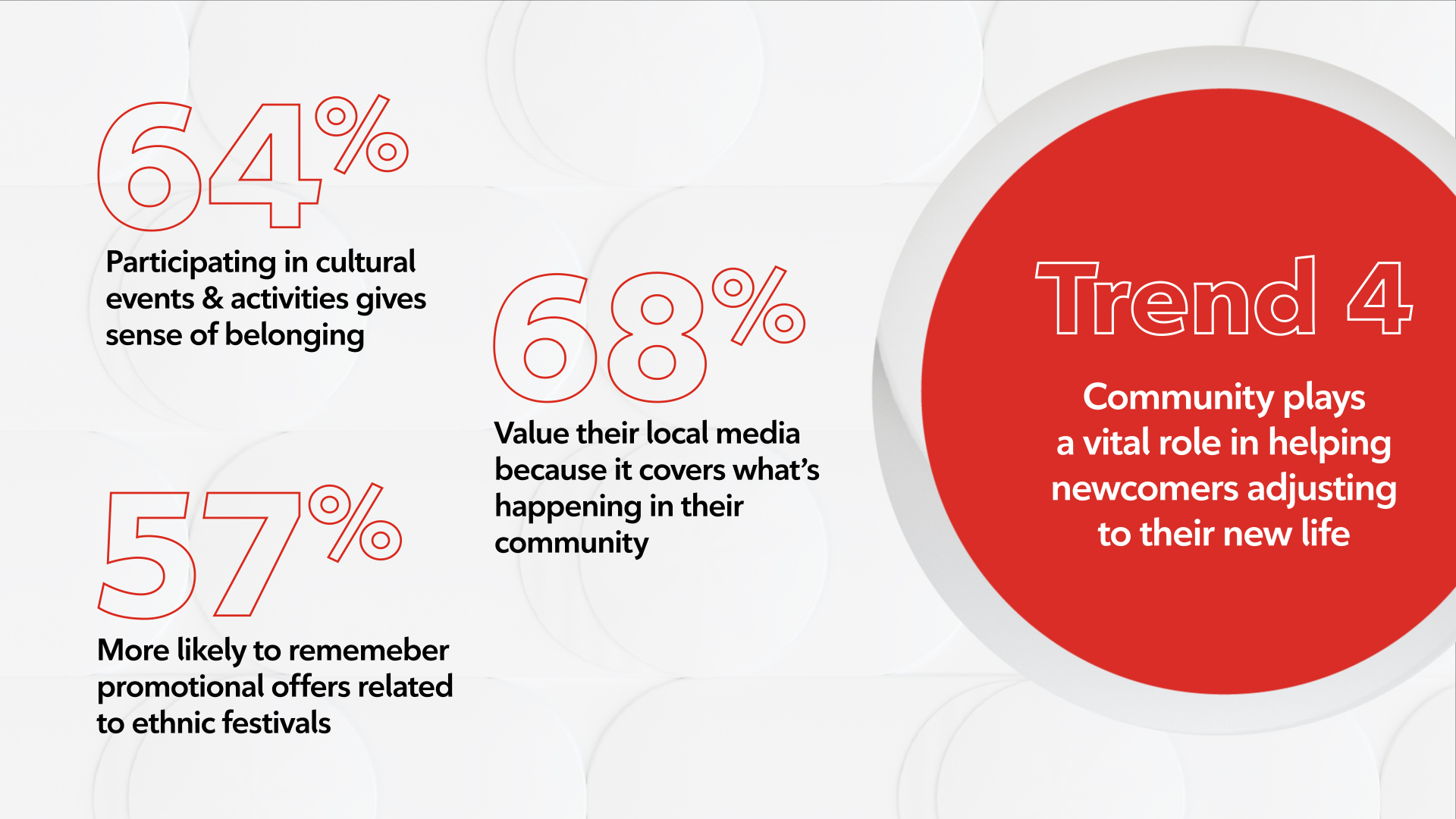 This strongly suggests campaigns should consider a focused local level to their tactics, including local media advertising and community event sponsorship.  
The bottom line is that with the latest wave of immigration comes incredible opportunities for brands and agencies.  
Want to learn more? Watch the recording of Bridging Advertisers with New Canadians here or download our buyers guide here  for more information on how you can get started.  
Back to top