All Eyes on the Future: Sportsnet Brings Extensive Multiplatform Coverage of GM Week, July 7-13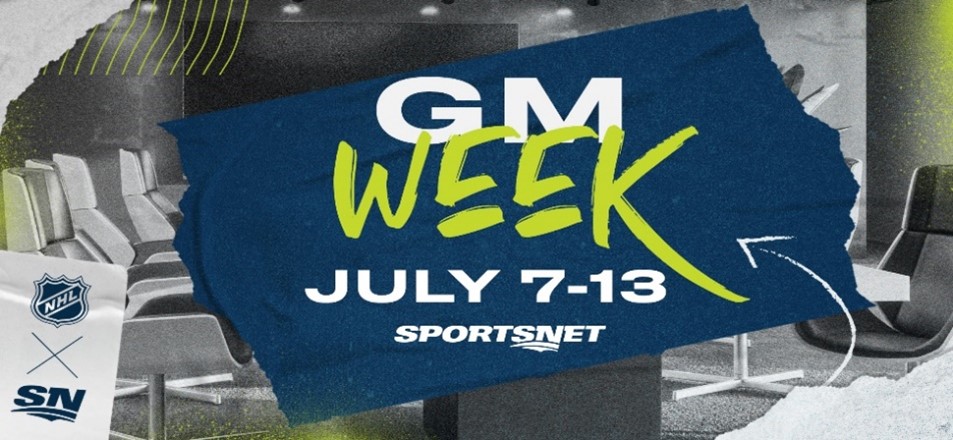 – The Canadiens take centre stage as NHL on Sportsnet delivers coverage of the 2022 NHL Draft from Montreal, July 7 & 8 –
– Hockey Central: Signing Season returns to break down the latest moves of NHL Free Agency, July 13 –
July 5, 2022 – This week, the off-ice action is ramping up as NHL general managers take centre stage on Sportsnet. Starting Thursday, next season's NHL rosters start to take shape with two can't-miss events – NHL Draft (July 7 & 8) and NHL Free Agency (July 13).
Sportsnet will be in the middle of the action serving up the latest deals, in-depth analysis and more on Sportsnet and SN NOW. Fans can also catch complementary GM Week coverage featuring the network's all-star roster of hockey experts across Sportsnet's audio and digital channels.
Covering every angle for Canada's hockey fans, GM Week coverage on Sportsnet includes:
 
TV & Streaming
Thursday, July 7
Hockey history is being made on Sportsnet as for the first time since 1985 the host city lays claim to the first overall pick. Live from Montreal, Sportsnet's expert panel breaks down each pick and potential trades as teams look to lay the foundation for their future. Round 1 coverage on Sportsnet features:
6:30 p.m. ET / 3:30 p.m.  PT – NHL Draft: Round 1 (Sportsnet & SN NOW)

From the Desk: David Amber, Sam Cosentino, Jason Bukala, and Pierre McGuire provide in-depth analysis on top prospects and share their predictions.
On the Draft Floor: Insiders Elliotte Friedman and Jeff Marek track down the latest news as it unfolds in real-time.
Reporters: Caroline Cameron speaks with the Class of '22 as they launch the next phase of their hockey careers and Kyle Bukauskas talks to the family, friends, and agents who have brought them to this moment.

NHL Draft Live with Dangle & Armstrong, hydrated by BioSteel – In a Sportsnet first, follow along as Steve Dangle and Colby Armstrong debut the "Draft Stream Dream Team" on Sportsnet's YouTube channel, where they react in real-time to picks, trades and discuss next season's rosters. With these two running the show, you never know what to expect!
Friday, July 8
11 a.m. ET / 8 a.m. PT – NHL Entry Draft: Rounds 2-7 (Sportsnet & SN NOW)

Friedman, Bukala and Cosentino join the NHL Network team for Day Two coverage live from Montreal.
Wednesday, July 13
Term? Top Dollar? Hometown discount? Sportsnet's all-star rosters of analysts, writers and insiders answer fans' burning NHL Free Agency questions and share their expert insights as NHL GMs' pens go to paper. National coverage details include:
11:30 a.m. ET / 8:30 a.m. PT – Hockey Central: NHL Signing Season (Sportsnet & SN NOW)

In Studio: Host Amber and analysts Anthony Stewart, Jennifer Botterill, Armstrong, Bukala, and McGuire break down the day's signings.
Insiders Desk: Marek and Friedman work their phones and break news as it unfolds.
Plus, Sportsnet's all-star roster of writers and reporters join the panel from across Canada as Canadian teams make big moves.
Audio
Throughout GM Week, Sportsnet Radio Network has hockey fans covered with draft predictions and analysis, delivering expert takes on free agency rumours and contracts.
Social Links
Official website, Sportsnet sportsnet.ca
Subscribe on Youtube youtube.com/sportsnet
Follow Sportsnet on Twitter @Sportsnet
Follow Sportsnet on Instagram @Sportsnet
Follow Sportsnet on TikTok @Sportsnet
Follow Sportsnet PR @SportsnetPR
About Sportsnet
Sportsnet is Canada's #1 sports network. Uniting Canadians through sport, Sportsnet's multimedia offerings include Sportsnet (consisting of four regional channels: East, Ontario, West, and Pacific), Sportsnet ONE, Sportsnet 360, Sportsnet World, the Sportsnet Radio Network, Sportsnet.ca, SN NOW, the Sportsnet app, and podcasts. Sportsnet is the official Canadian NHL national multiplatform rights holder, and is the regional broadcaster for the Vancouver Canucks, Calgary Flames, Edmonton Oilers, and Toronto Maple Leafs. Sportsnet also has extensive coverage of the Toronto Blue Jays and Toronto Raptors, as well as NBA, MLB, Grand Slam of Curling, National Bank Open presented by Rogers, FIBA, WWE, IndyCar, Super League Rugby, Premiership Rugby, Bundesliga, FA Women's Super League, and FA Cup. Sportsnet is part of Rogers Sports & Media, which is a subsidiary of Rogers Communications Inc. (TSX, NYSE: RCI). Visit Sportsnet.ca.
Back to top